[ad-vur-si-tee]
an adverse or unfortunate event or circumstance-Dictionary.com

Hello,

My name is Lorne Neufeldt. I am running for City of Ottawa councillor in ward 4 (Kanata North) and as a matter of fact, I am blind. Adversity is a term I hear daily by many describing my situation and life. I however, would not. At age 4, it was discovered that I would eventually go blind, so I have had some time to get used to this idea. Even though I was thrown into "adversity", I did not let that hold me back.

Having this stigma had made life difficult in middle school. In high school it was even harder. For some, this obstacle would cause distress but I saw it as a learning experience in patience and humility. I learned how not to be ashamed, to ask if I was unsure, and I developed the ability to say, "I don't know" without fear. Those last three words are my fuel.

I have always had a hunger to learn about anything and everything that I could. At the age of 12 I started watching CPAC and C-Span, my foray into the world of politics. Although we had these large rooms of smart people making choices for everyone, there was something missing. No one had a dog or white cane.

That reality jump-started this mission for political representation of the visually impaired. From humble beginnings, being a junior campaigner who utilized the beginnings of social media in rural Saskatchewan, to advocating for those whose voice is either unheard or largely ignored. I do sincerely hope you give me the opportunity to learn your story and represent your voice to help make Kanata…Stronger Together.

Powered by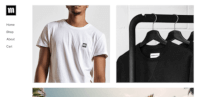 Create your own unique website with customizable templates.